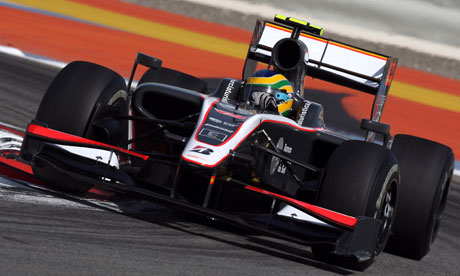 Hispania Racing Team boss Colin Kolles has said both the team's
'regular drivers'
will be driving at the Japanese Grand Prix at Suzuka next week. Which brings the problem: who are their regular drivers? Bruno Senna is certainly one, as he's driven all but one race this year, but who's partnering him?
For those that don't know, the team's had four different drivers this year, Senna (the nephew of the great Ayrton Senna), Indian Karun Chandhok, who raced for the team in the first half of the season, Sakon Yamamoto, the Japanese pay-driver currently racing for the team, and Christian Klien, the team's test driver, who replaced the ill Yamamoto at the last race in Singapore (and did pretty well).
Sadly, it appears Yamamoto will be given the nod, not because of his racing ability, but due to his rather large wallet (which the team desperately needs), plus the fact it's his home race. It's quite sad to see Chandhok on the sidelines after the solid start he made, and was improving all the time before they suddenly dropped him: his commentary on the BBC in the latter half of the season has shown he's got a good knowledge of the cars and tracks as well, not to mention a clear enthusiasm and dedication to the sport.
As for Yamamoto, having already had two tries (and fails) at F1 before his current job, I think it's clear he should think about giving it up, as his driving remains erratic, his speed slow and his effectiveness for the team and the race overall extremely low. I can agree that being in F1 would be a great experience, and that it would be better to get as much time as possible, no matter where it is, but the lack of improvement shown by Sakon Yamamoto is very telling.
Hopefully the team will be able to sort this out ahead of the final few races of the season, but with the team stuck to the back of the grid and two underperforming drivers, they may well be hoping just to get the season over with.